July 2010
The 5P's: How we approach sustainability.

Principles, Processes, Practices, Performance and Progress are the 5P's for framing a strategy for sustainability. After a decade of developing sustainability programs in the specialty crop sector, SureHarvest has developed a comprehensive,yet practical, path for pursuing sustainability.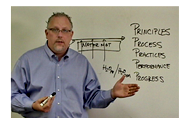 View this ChalkTalk with Jeff to learn how SureHarvest builds sustainability programs and the internal benefits to organizations that pursue a sustainability strategy.
Innovative growers use technology for orchard management.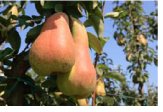 We asked three innovative orchard growers to share their wisdom when considering information technology investments: Mike Robinson, Double Diamond Fruit in Quincy, WA; Andrew Sundquist, Sundquist Fruit in Yakima, WA; and Paul Adams, Booth Ranches in San Joaquin Valley, CA. Here's what they say:
Be specific about your data needs.

Know what you want the technology to accomplish.

Pace yourself. Start with the highest priority and learn from that.

Talk to other to see how the system is actually being used in the field. Be sure it does what the vendor says it will do, and what you want it to do.

Invest appropriate resources - staff and time - to maximize the ROI.
Third progress report sets the standard.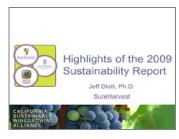 "The California winegrape industry sets the gold standard for sustainable agriculture programs," stated Dr. Jeff Dlott, during the press conference release of the 2009 Wine Community Sustainability Report. "Through the California Sustainable Winegrowing Alliance, the wine industry is the first sector in agriculture that has developed such a comprehensive approach to sustainability, supported with benchmarked data and performance reports." View Jeff's video highlights of the 2009 performance report.
Pilot testing begins for Stewardship Index metrics.
Nearly 100 growers have begun pilot testing the sustainability performance metrics proposed by the Stewardship Index for Specialty Crops. Data is being collected for the 2010 crop year in the areas of energy (on-farm only), GHG (non-farm only), air quality, pesticides (on-farm only), water use, soil, nutrient & water quality, biodiversity and waste. SureHarvest is coordinating the pilot process with funding from the USDA Conservation Innovation Grant. For more info, see www.stewardshipindex.org. A recent Op-Ed in The Packer by Tim York and Dr. Jeff Dlott articulates the need for a common set of measurements for sustainability throughout the supply chain.
Radical Transparency - when brands compete on environmental impact.
Dan Goleman in Greenbiz.com writes about the powerful combination of sustainability metrics and information technology in the hands of consumers projecting that "this disruptive technology portends the day when brands compete on ecological merits as well as price, because those impacts will be transparent to shoppers." Read article.
Adoption of sustainable ag practices increasing.
According to the latest Rabobank U.S. Farm & Ranch Survey, 72 percent of all U.S. farmers report taking steps toward more sustainable farming practices. The most employed practice is direct seeding (64%), followed by minimizing use of chemicals (42 percent), crop rotation or diversification (39 percent), and reduced energy inputs (39 percent) as the most significant steps. Read the report.