July 2009
Water, water…where?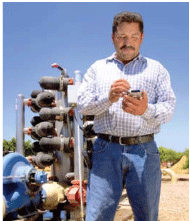 With all the attention on water usage these days, SureHarvest provides analytical tools to help you answer key water use and irrigation efficiency questions. SureHarvest growers understand that efficiency of water use is critical. When we asked Steve Dutton of Dutton Ranch in Sonoma County why he uses the SureHarvest Irrigation module, he said: "I am worried about increasing regulation of water use. I want to be able to verify that I am using water as efficiently as possible to regulatory agencies and be able to back up my claims with hard data."
Working with Constellation Wines, SureHarvest deployed the Farming MIS Irrigation module on the handheld making it even easier for SureHarvest customers to capture critical water use records. By collecting irrigation activities with a handheld in the field, growers can get accurate, real-time and accessible data. Before, the irrigation data would be written on paper and then keyed into the computer sometimes a week or even a month later. Now, the manual data entry is eliminated so the risk of human error is reduced and the data is available in real-time for making day-to-day, hour-by-hour decisions. Click here to see a video demonstration of the irrigation module.
Welcome to our newest customers!
Farming in Monterey County, we welcome J&L Farms, a large farming management company supplying grapes for various wineries, including Lockwood Vineyard. Garvey Brothers Vineyard Management in the Napa Valley started with the SureHarvest Scouting module and has recently added the Labor and Resource Management module. Madroña Vineyards, an innovative, family-owned company producing estate wines, is implementing the complete Farming MIS system, including the Labor tracking module. Farming in El Dorado County, Madroña is our first Sierra Foothills customer. Adelsheim Vineyard, a family-owned winery in Oregon's Willamette Valley, is giving the Labor module a pilot run and finding it to be a good fit for tracking the most costly part of their farming operation. In total, SureHarvest Farming MIS is used by growers managing a cumulative 147,000 acres -- and growing!
Fruit Growers Laboratory reports now electronically importable by SureHarvest Farming MIS.
Fruit Growers Laboratory, Inc, now generates reports in an electronic format that is compatible with SureHarvest Farming MIS. In response to a request from Beckstoffer Vineyards, Fruit Growers and SureHarvest collaborated to allow Fruit Growers' tissue, soil and water analysis reports to be downloaded into SureHarvest Farming MIS for immediate use in reporting and analysis. This seamless data transfer function significantly increases efficiencies and reduces inaccuracies associated with manual data entry.
SureHarvest Conducts Sustainability Survey of PMA Members.

Conducted for PMA, the Sustainability in the Produce Sector report summarizes the findings from surveying 450 fresh produce industry executives. Companies are motivated to adopt sustainable practices as a cost-cutting strategy, but the majority do not know the ROI of these practices. SureHarvest CEO Jeff Dlott will be speaking on a panel entitled Finding the ROI on Sustainability at the October PMA Fresh Summit in Anaheim.
Turnkey Solutions for Sustainability.
SureHarvest applied its sustainability program development services with its sustainability and farming management software to help California's wine industry become a world leader in sustainability. And watch for the California Sustainable Winegrowing Alliance 2009 progress report due out later this year. Read the case study.